Xclusive Real Estate
"For your exceptional property in Mallorca"
Xclusive Real Estate
"For your exceptional property in Mallorca"
Xclusive Real Estate
"For your exceptional property in Mallorca"
Xclusive Real Estate
"For your exceptional property in Mallorca"
Your contact for Luxury Real Estate in Mallorca
At Xclusive Real Estate, we are a brokerage company that offers you exclusively high-quality, high-end properties in the luxury segment. Let us accompany you on your way to an exclusive property on Mallorca, and beyond if you wish. We will unite you with your personal dream property situated in the very best location enjoying a high-quality ambience.
Angelika Kasprowski and Claudia Bongard
In the real estate business, several important factors come together that make our passion for the job grow every day. We take on the task of uniting you with your personal dream property and making the entire process worry-free for you. You will experience that the purchase or sale of a property is more than just a transaction. It is a unique luxury experience for you and your loved ones, where you will always feel that you are in good hands.
We have specialized our business in the luxury segment right from the start. Therefore, we have dealt in depth with the demanding requirements of our customers. Right from the start, our customer support is designed for long-term customer support.
With our international cooperation partners, we have built up a discreet and successful network that makes our sense of business special. In addition to an extensive portfolio, we also present you with exclusive properties that you cannot find online.
We stand by you as a trusting team so that we can achieve the goal of your dream property effectively and result oriented.
Our path begins with you.
Luxury real estate specialist
Customer care beyond the purchase
We Are Off-Market Specialists
The term "off market" or also "secret market" in the real estate industry refers to properties that are not for sale to the public. This distinguishes them significantly from properties that are advertised off- and online for the general public. Discretion is paramount and is reflected in not only our luxurious property portfolio but also in the exclusivity of our service.
"Off market properties" are highly sought after, particularly in Mallorca, as they represent an attractive investment due to their privileged locations and characteristics and at the same time offer the highest level of discretion. To protect the privacy of our clients, these properties are neither published on real estate portals nor in print or online advertisements. Our acquisition is carried out solely through contacts in our personal and selected network. This enables us to bring providers and investors together and to guarantee a trusting and concrete flow of information through direct contact.
As you embark on your search for your dream property with us, we will tailor a first-class stay to suit your needs. Buying a property should not be a transaction in itself, but a carefree luxury experience during which you feel well looked after and cared for at all times.
Upon request, we can arrange your entire stay with hotel bookings, yacht rentals, high class car rentals, chauffeur services or reservations at the most prestigious restaurants on the island. Regardless of your needs, we will be happy to take care of them for you and remain at your side.
Xclusive Real Estate also provides you with an comprehensive after-sales service that extends well beyond the acquisition process. Because our customer care is designed for long-term customer relationships right from the start. Through years of experience in property management and concierge services, we understand exactly what you need to enjoy every stay on Mallorca. To ensure that your property remains in pristine condition, we support you with our wide range of experienced professionals.
We can provide the necessary tradesmen, architects, painters, plumbers, or surveyors and, as a matter of course, take care of your dream house beyond the handover of the property. Allow us to convince you of our extensive range of services.
Upon request, we can also arrange a bespoke and flexible staff for your property. To ensure that you do not have to forego exclusive service at any time, we make our luxurious and discreet hospitality service available to you, so that we can fulfil any request regarding professional property management, domestic help, butler and private chef service, flight and limousine service, villa maintenance and care and much more according to your wishes. Our aspiration is to guarantee you the same high standard of living in Mallorca.
We believe that the real estate business requires values such as reliability, trust, and the utmost discretion. We adhere to these principles and offer you professionalism at the highest level. We will accompany you throughout the entire purchase process and are always at your disposal with our specialist and market knowledge. With our trustworthy, discreet, and successful network, we ensure competent handling of luxury properties in the sought-after locations of Mallorca.
Through our expertise and commitment, we appreciate the individuality and exclusivity of our clients. We embark on a personalised search on your behalf to exceed your exacting requirements. With your personal requests in mind, we assure you a result-oriented and individual search based on a detailed profile.
Come and find your luxury property in Mallorca. Be it a charming luxury villa with private access situated in a prime seafront location or a luxurious designer home in a prestigious location close to the golf course, marina, and stylish restaurants.
Mallorca provides the ideal conditions for your luxury home.
You may desire a family-friendly villa in a quiet location or a luxury property where you can live out your hospitality. With us, you can turn your ideas into reality.
...with first class equipment
Drawing on many years of experience in property management, we are well aware that your property is not complete without exclusive design furnishings. In this regard, too, we have particular expertise and provide you with properties with built-in interior design from the most renowned brands, such as Banni, Stork Interior Design, Minimal Studio, Terraza Balear, Espacio Home and About living. First class kitchen design from Bulthaup, Somatic, Poggenpohl and Leicht will create the atmosphere of comfort you are looking for. 
To make sure that you can also relax in the outdoor area of your property, pool landscapes, terraces and lounge areas are equipped with the most exclusive designer garden furniture, such as Dedon, Minotti, Paola Lenti, Poliform and Tuuci, and deliver functional design and maximum comfort.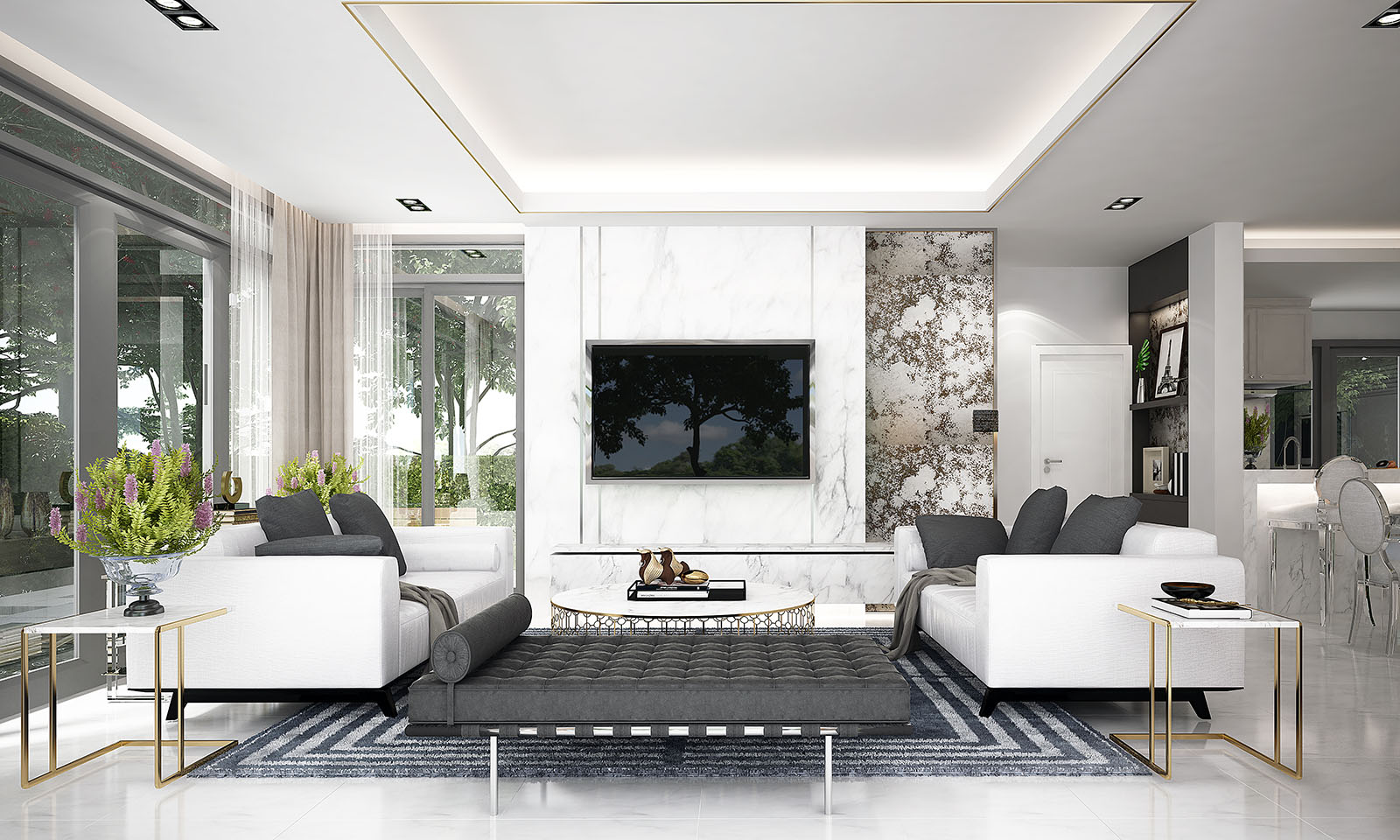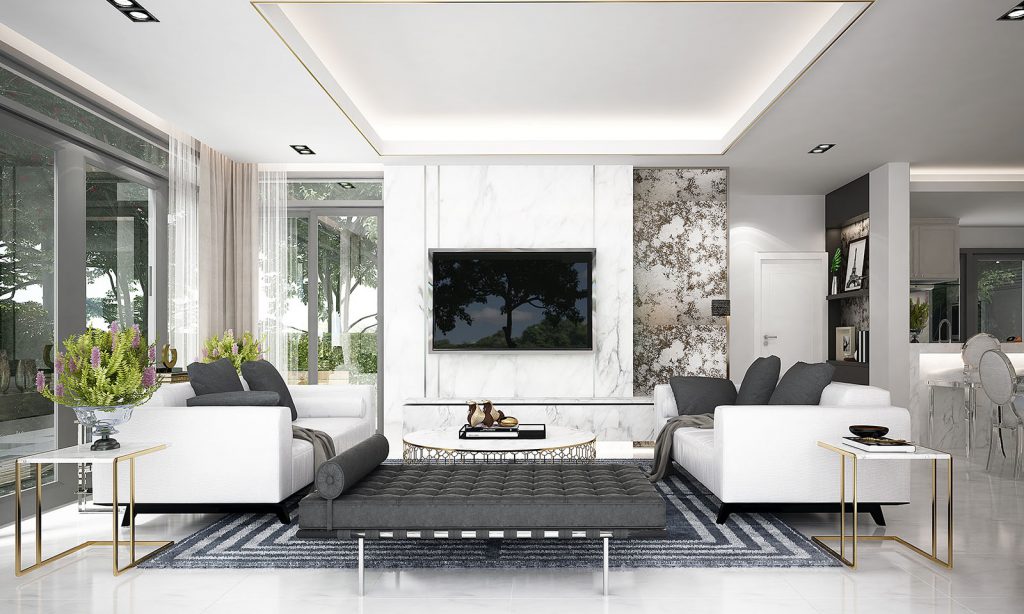 Luxury real estate in Son Vida
Enjoy exclusiveness in Son Vida
Situated in a mountainous area at the foot of the Tramontana mountain range, Son Vida is a residential neighbourhood of the city centre of Palma de Mallorca.
Characterised by tranquil nature and breathtaking views of the Bay of Palma, the residential area is a perfect place to live. Representative villas and rustic fincas dominate the panorama, creating a glamorous urbanisation that is now one of the most exclusive in Europe. True palaces are constantly being built here, which rarely know an upper limit.
Although there are only a few hotels in Son Vida, they blend into the overall luxurious picture and have excellent restaurants and a wide range of leisure facilities within immediate proximity.
Ranked among the top golf courses on the island, the Arabella Sheraton Golf Resort attracts significant island visitors to the area each year with its special charm.
The Castillo Son Vida hotel was transformed into a romantic castle at the beginning of the 20th century and prioritises exclusivity for its guests. Son Vida is also renowned for its distinguished international schools.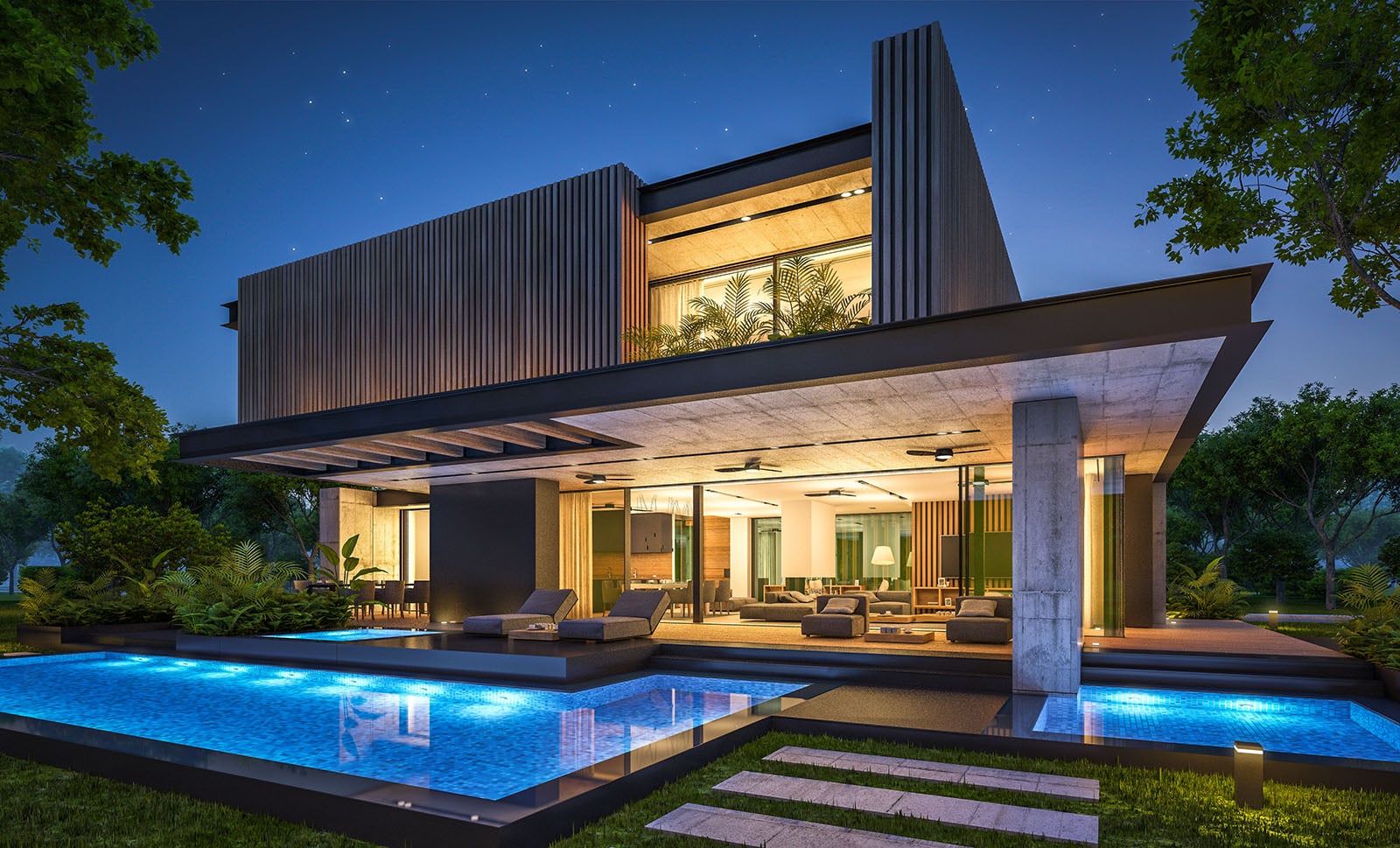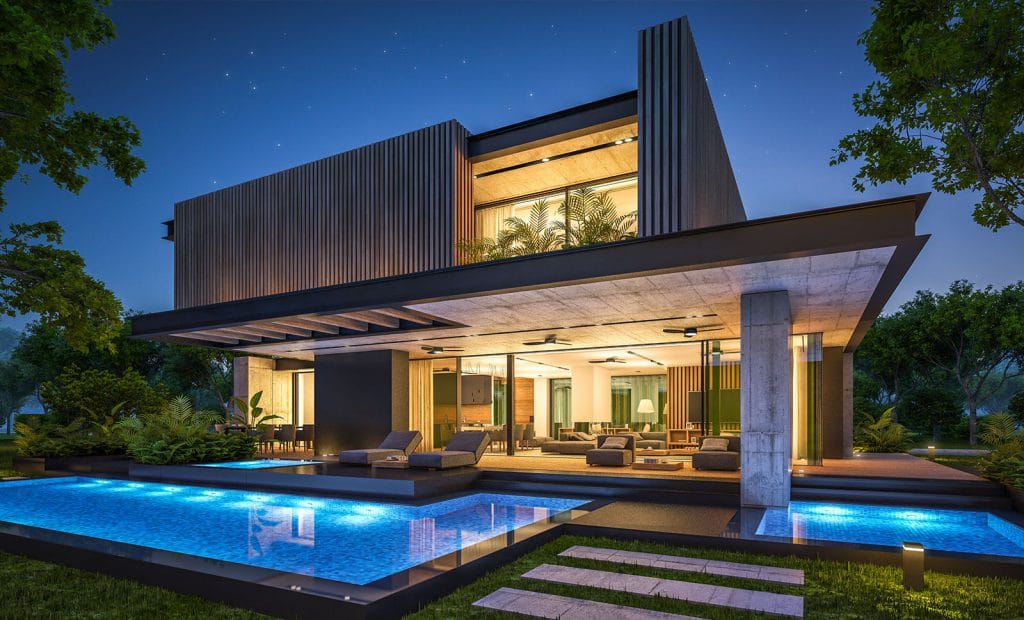 Luxury real estate in Bendinat
Impressive architecture in a central location
Bendinat is located in the municipality of Calvía and is highly sought after by visitors to the island because of its excellent location.
Situated close to the island's capital, Palma de Mallorca, Partals Nous and Llletes are within easy reach, boasting a wide variety of restaurants and beaches. With a reputation for unique luxury, Bendinat offers residents stunning sea or golf views in an exclusive neighbourhood.
Old Bendinat is closer to the sea, so that villas situated at the first sea line often enjoy a private access to the sea.
Offering a tranquil and welcoming atmosphere with direct beach access, Hotel Bendinat is ideal for an exclusive lunch with sweeping sea views. At the "Real Golf de Bendinat" you will be seduced by a magnificent landscape. And in Llletas, after a short drive, you can indulge in a relaxing day at the Balneario Llletas Beach Club or also at the Purobeach Llletas.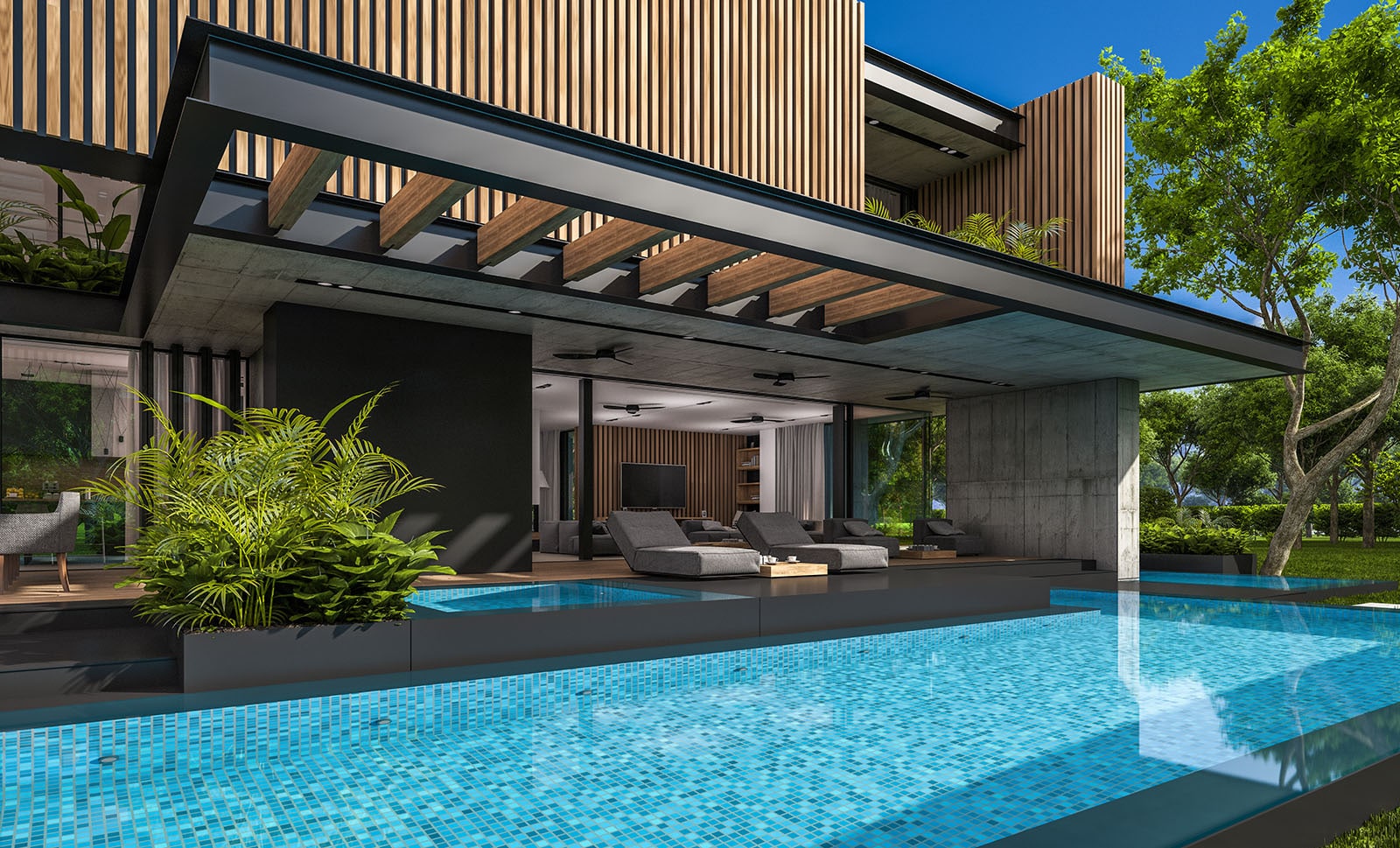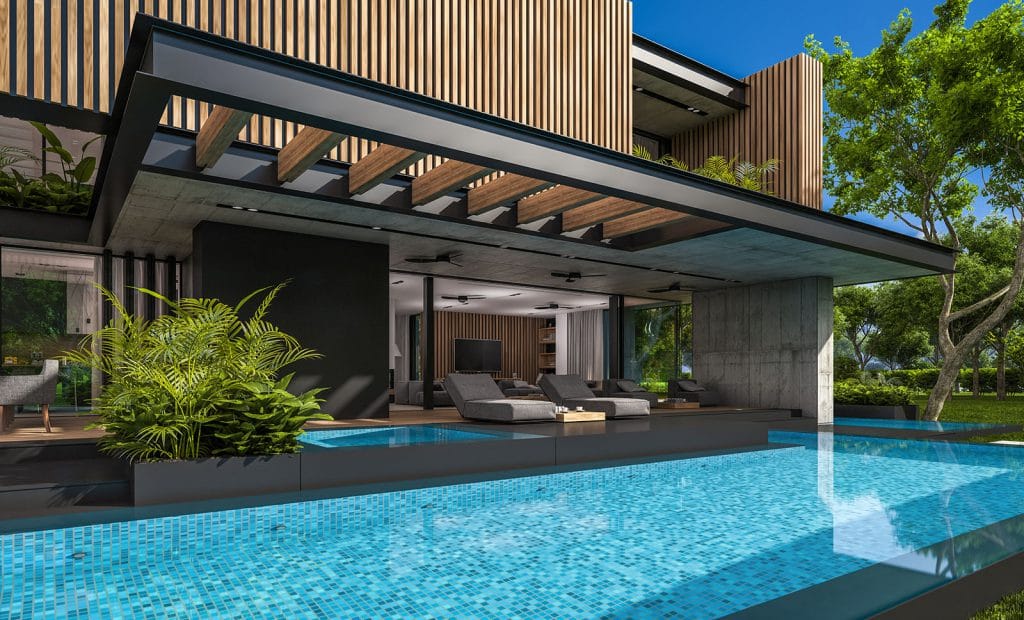 Luxury real estate in Port d'Andratx
A historic fishing village in a class of its own
Situated on the west coast, the exclusive port town of Port d'Andratx is set against a picturesque mountain backdrop.
The mountains of Tramontana are beautifully accentuated by architecturally perfect villas and designer houses. Occupants delight in panoramic views of the utmost calibre here. Adding to the Mediterranean atmosphere is the small but charming marina, while restaurants cater for excellent quality with limitless variation.
Surrounding the historic fishing harbour, there are numerous designer boutiques and jewellery shops to be discovered in the charming alleys for unique shopping trips. For contemporary art, you can discover the CCA Andratx cultural centre and countless galleries. For golfers, the nearby Camp de Mar is home to the "Golf de Andratx", a premier golfing paradise.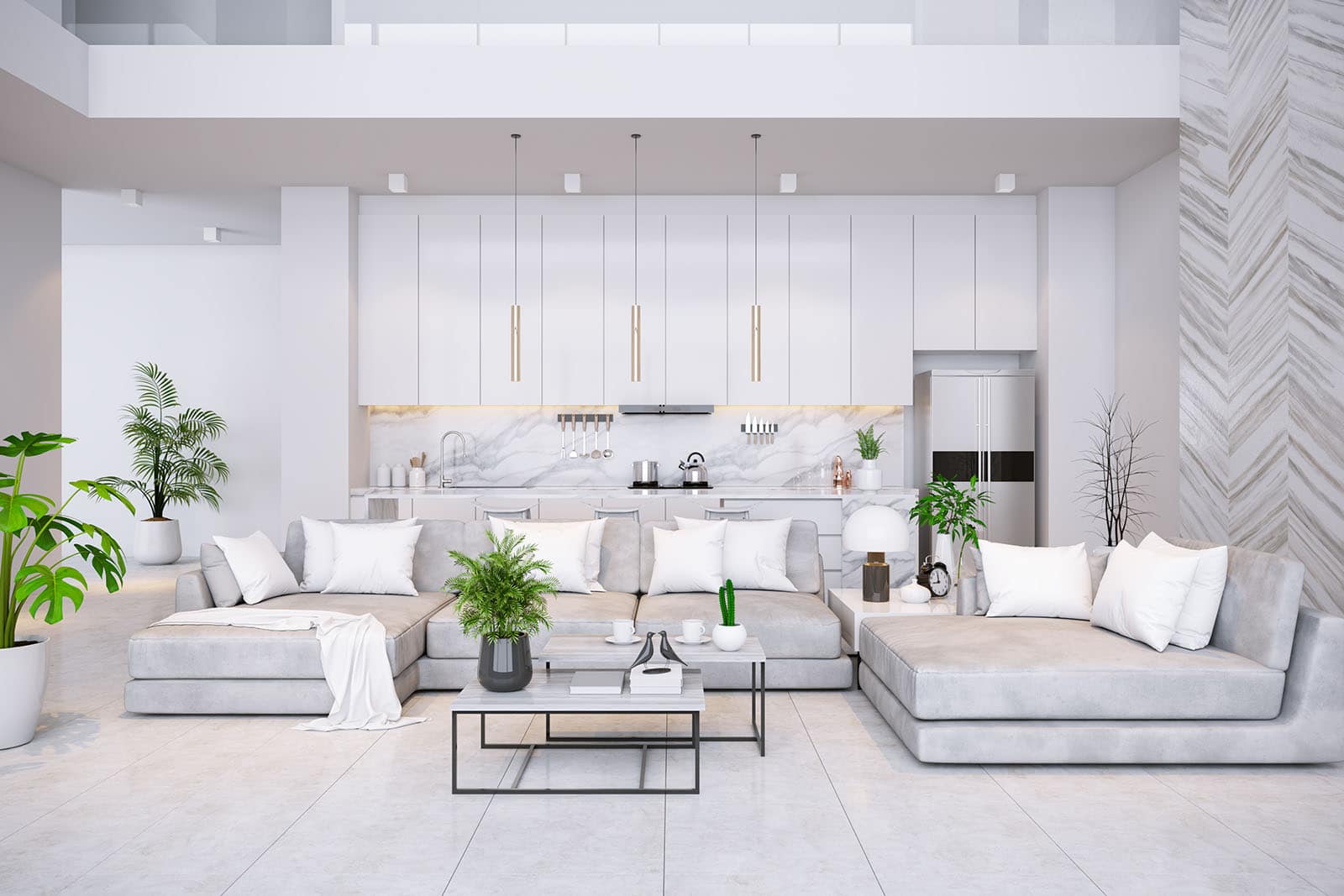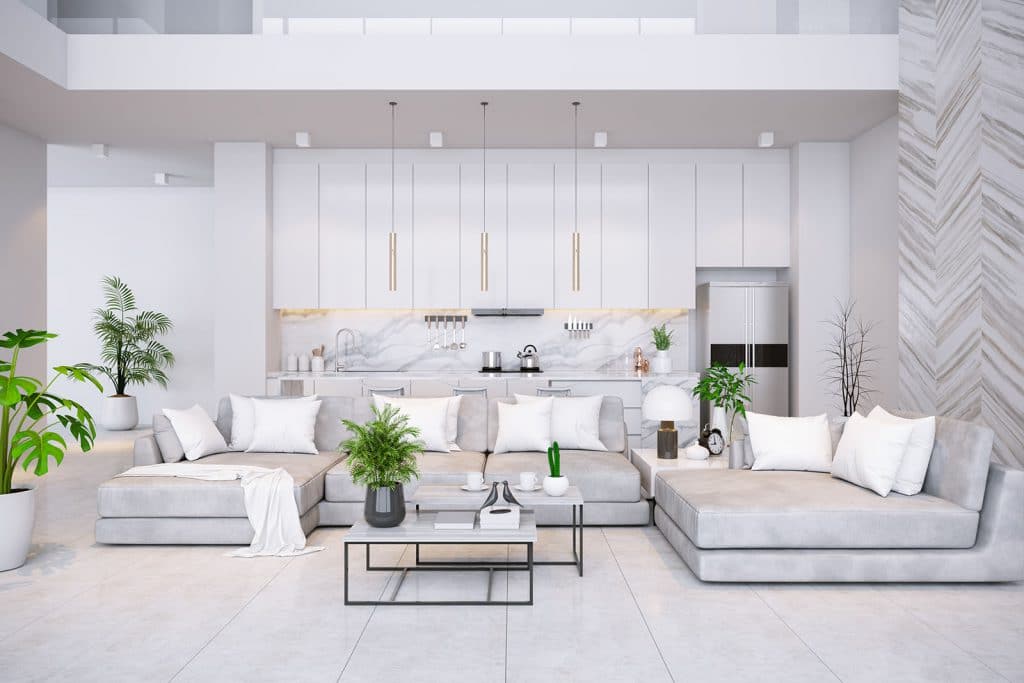 Luxury real estate in Cala Llamp
Living in harmony with nature and luxury
Cala Llamp is a residential area situated two kilometres from Port d'Andratx.
Residents can enjoy one of the most impressive views on the island from the luxurious residential complexes at an excellent altitude. The Tramontana Mountain range surrounds the bay, forming the shape of a crescent moon. Residential aesthetes have quickly recognised the beauty of the locality – its urbanisation is characterised by imposing villas and flamboyant designer homes.
Tucked away near Port d'Andratx in the southmwest of the island is the beach of Cala Llamp Bay. Its exclusive beach club "Grand Folies" beckons guests to spend a relaxing day with friends and family. For further culinary delights, Port d'Andratx is within easy reach.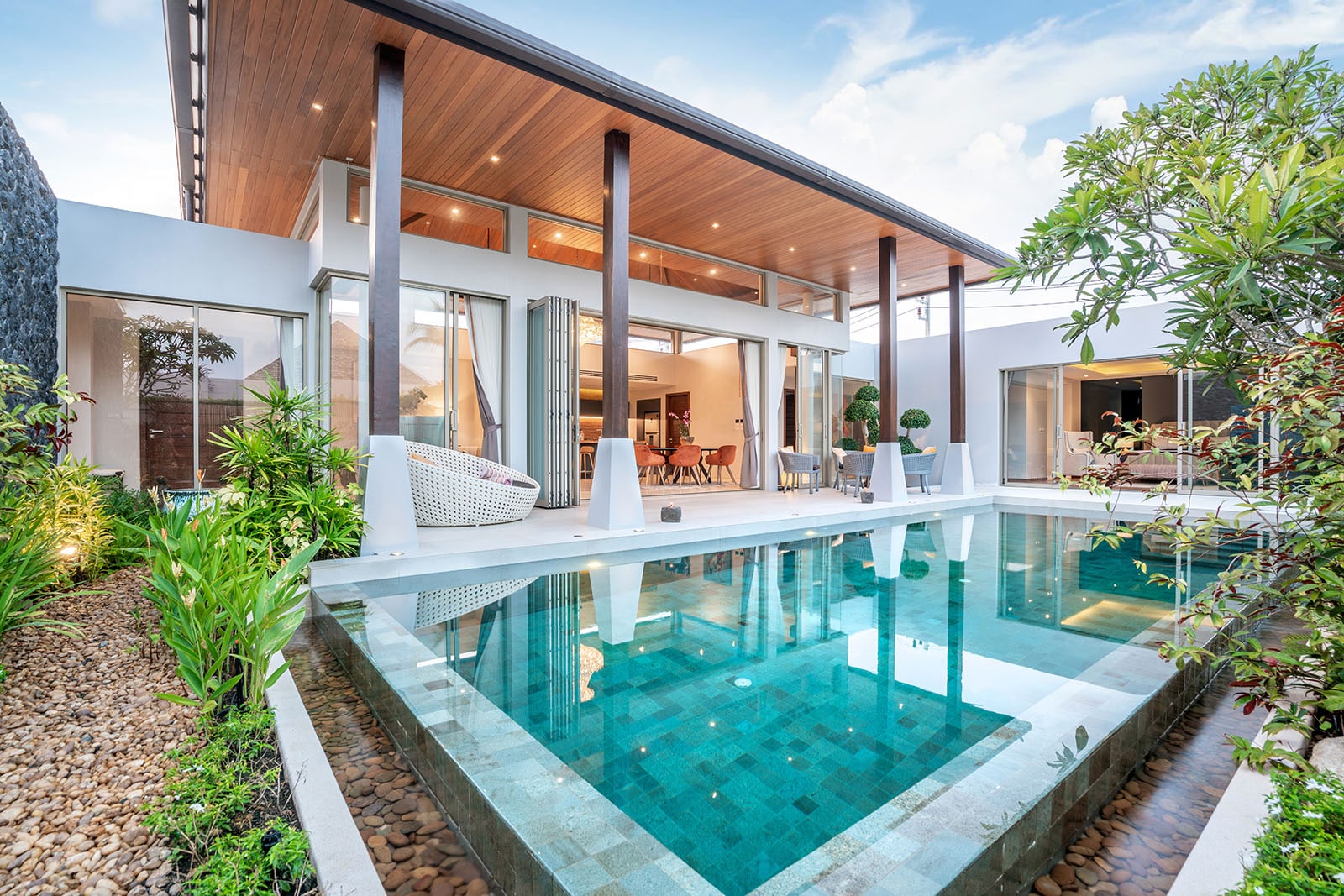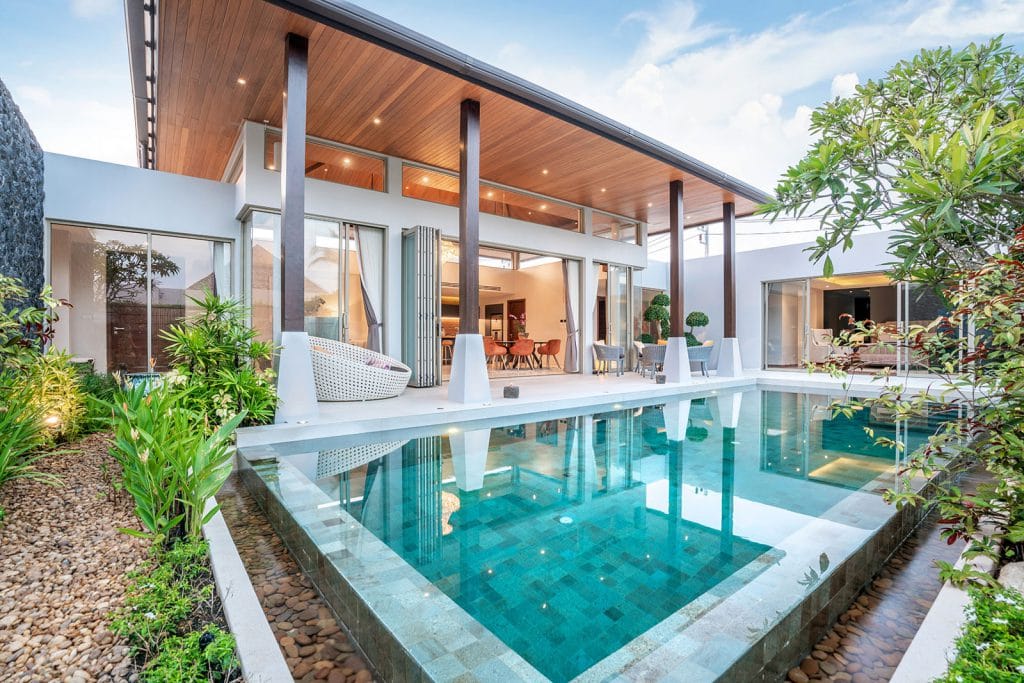 Luxury real estate in Puerto Portals
Glamour Hotspot Puerto Portals
Hailing from the most exclusive residential areas, high society converges on Puerto Portals.
Perched on Mallorca's west coast, this cosmopolitan area is distinguished by luxurious residences with elegant privacy. Alongside the tasteful and highly exclusive residential areas, Puerto Portals promises a culinary journey through renowned restaurants. It is not uncommon to meet celebrities among the clientele in the island's most popular bars.
For a special shopping trip, the boulevard at the marina provides exclusive designer shops, classy boutiques and jewellers. The St. Regis Mardavall Mallorca Resort impresses with a high standard for the most affluent guests.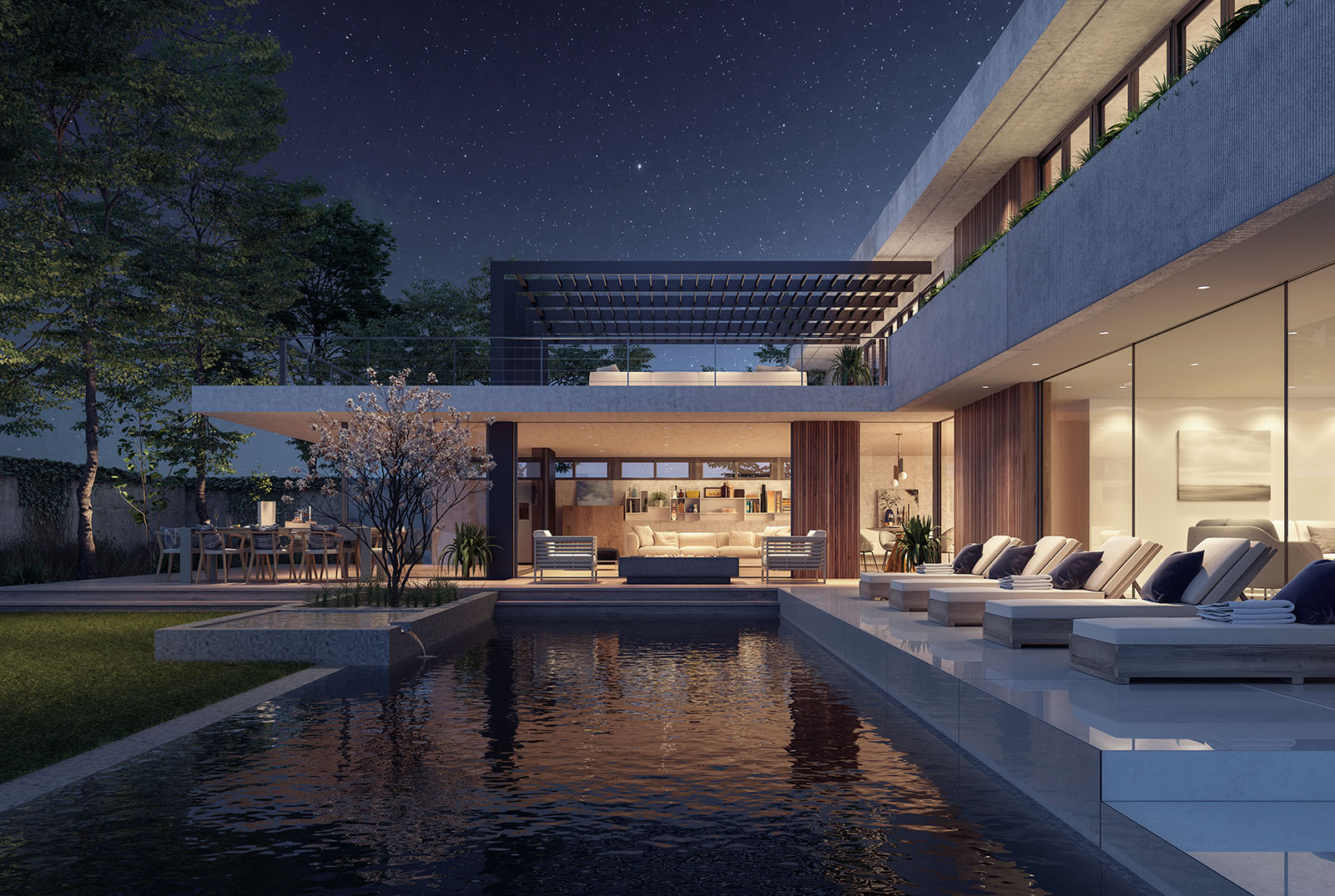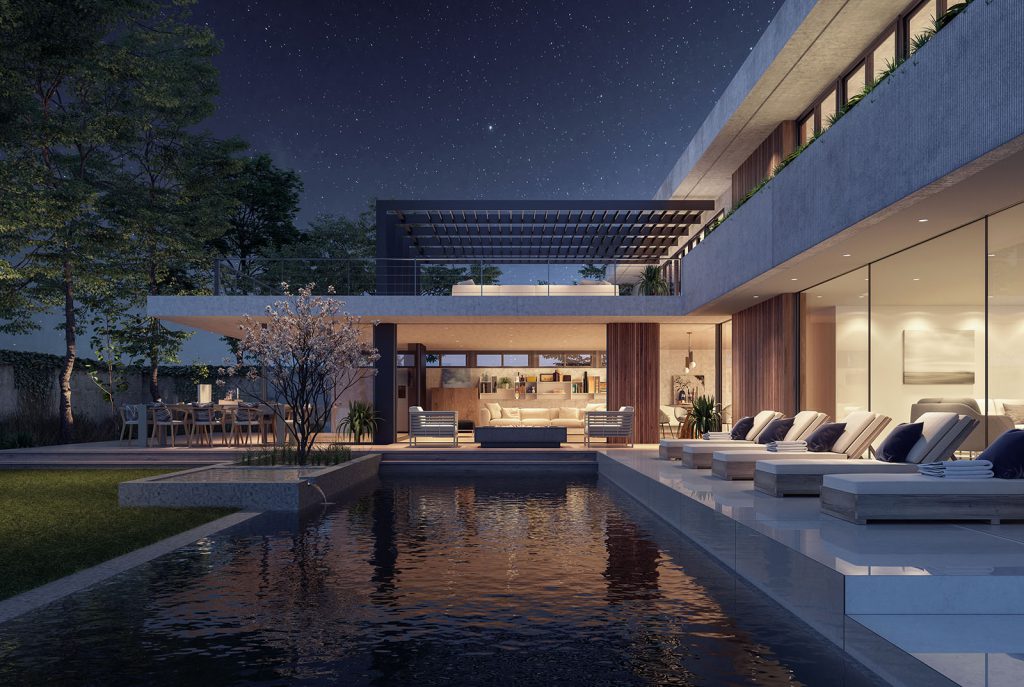 Luxury real estate in Santa Ponca Nova
When nightlife and luxury converge
Santa Ponça Nova impresses with dreamlike mountains and forests, home to some of Mallorca's most luxurious properties.
This is one of the most popular residential areas in the southwest of Mallorca. The vicinity to Santa Ponça promises first class entertainment with abundant shopping opportunities and versatile restaurants, bars and clubs. On the other hand, the golf course of Santa Ponça is very popular among golf lovers and the marina of Port Adriano is only a few minutes away.
Opinions of our customers
We appreciate the great feedback
"Very friendly team and convincing selection of properties in Mallorca. We are very thankful for everything. You are our recommendation for luxury real estate"
"Buying a house can also be quick and easy – amazing! The all-round service was available at all times!"
"Great praise! Strong team with strong performance! Gladly again when it comes to luxury real estate in Mallorca."